What is suspension strut mount and what does it do to your car?
2020-02-132297
What is suspension strut mount and what does it do to your car?
The strut mount in shock absorber is the elastic element of chassis or suspension system, which plays the role of buffer and isolation. When encountering too much load, strut mounts can effectively prevent the damage of other structural parts of the vehicle body and the abnormal noise caused by metal contact due to too much impact.

Why the strut mounting kits fail?
As a vibration damping item strut mounts are subject to normal wear and tear which can be accelerated by poor road conditions such as potholes. Visual inspection of strut mounts can reveal potential failure in the form of damaged or worn component, excessive movement or corrosion. Warning signs of worn strut mounts can include clunking noises over bumps, excessive vibration, heavy steering, car wanders from side to side, uneven tyre wear.
Why replace the suspension strut mounts in pairs?
As with most steering and suspension products, to maintain vehicle balance and control it is best practice to replace left and right hand components in pairs. This help prevent a bouncy and uncomfortable ride while improving ride control. If one side requires replacement, it is likely the other side also requires replacement.
How can you make sure you have got a good strut mount?
Please see below 5 points: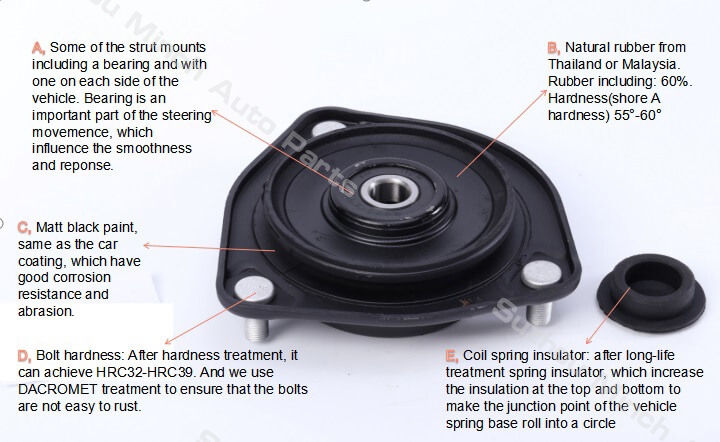 A, Some of the strut mounts including a bearing and with one on each side of the vehicle. Bearing is an important part of the steering movemence, which influence the smoothness and reponse.
B, Natural rubber from Thailand or Malaysia. Rubber including: 60%. Hardness(shore A hardness) 55°-60°
C, Matt black paint, same as the car coating, which have good corrosion resistance and abrasion.
D, Bolt hardness: After hardness treatment, it can achieve HRC32-HRC39. And we use DACROMET treatment to ensure that the bolts are not easy to rust.
E, Coil spring insulator: after long-life treatment spring insulator, which increase the insulation at the top and bottom to make the junction point of the vehicle spring base roll into a circle.
F, Our suspension strut mounting kits could sell including strut mounts, nuts, bearing, coil spring insulators, it all depends on customers.
What's next? How about scan some products? https://www.szminch.com/Strut_Mount/
Categories
Latest News